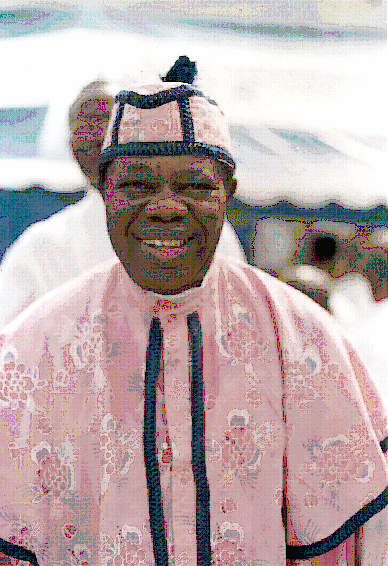 <![if !vml]>

<![endif]>
<![if !vml]>

<![endif]>

Rev Gilbert Oluwatosin Jesse was born in Mahin in the Ilaje-Ese Odo Local Government in Ondo State of Nigeria on May 17th 1937.
He schooled at St Paulís Catholic Primary School, Ebute-Metta, Lagos and later attended Lagos City College, Yaba,Lagos where he obtained his West Africa Examination Certificate in 1958. He was thereafter employed as a Clerical Officer at the Prime Ministers Office, Race Course, Lagos State. He later work vigorously for the Federal Ministry of Establishment and retired in 1972.

He went into private business on Electronics and later moved into selling vehicles of different brands, till he was call into full-time church worker in Celestial Church Of Christ in 1975.

Nevertheless, He joined Celestial Church Of Christ in 1953 at National Headquarters, Makoko, Yaba, Lagos State, Nigeria. In 1969, He established a Parish in Ikorodu Road, Fadeyi that was the second parish that was formed out of the National Headquarters.
He shepherds the Ikorodu Road Parish till 1979 and then posted to Celestial Church Of Christ, Ikorodu Parish. Later that year, He established Celestial Church Of Christ, Ojota Parish 1 and the following year, 1988 he was elevated to the position of Most Senior Evangelist and posted to Ogun State as State Evangelist by Rev A A Bada. In 1990 he was transferred to Lagos, to take charge of Surulere/Ijeshatedo Districts and to shepherd Celestial Church Of Christ, Olajuwon Tejuosho Parish. He was the Chairman International Revival Committee. This position he held till Rev A A Bada appointed him as Reverend and Superior Evangelist, Head of Celestial Church Of Christ, Nigeria Diocese.

On Monday, December 30th, 2002 the World Council Of Pastorís Representatives unanimously appointed him as the authentic Pastor and Spiritual Head of Celestial Church Of Christ, World-wide.